No documents found.
Wednesday 12 July 2017
AGM 2017
Save the Date
This year's AGM will take place on July 12th.
Further details coming soon!
Wednesday 13 December 2017
'Do We Need a New Concept of Peace?' - a Lecture by Sir Lawrence Freedman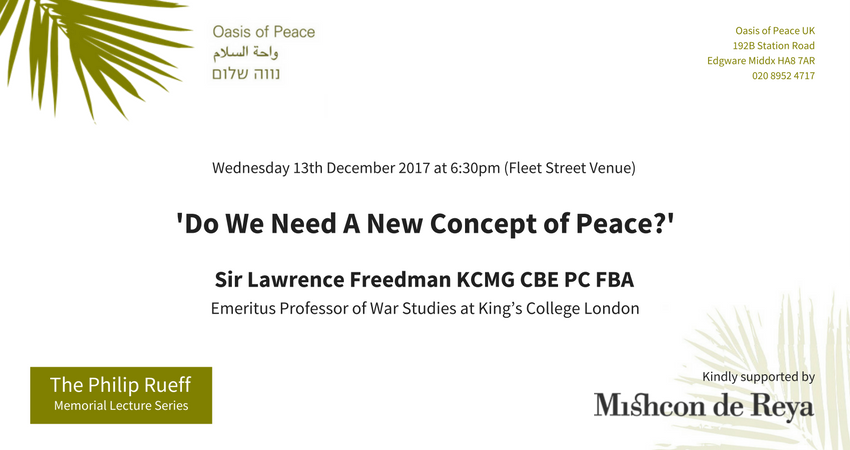 Buy Tickets Here
We are pleased to announce that our guest speaker for the 8th Philip Rueff Memorial Lecture will be Sir Lawrence Freedman. Sir Lawrence Freedman is the Emeritus Professor of War Studies at King's College, London. He was a member of the Chilcot Enquiry committee, and has written extensively on nuclear strategy and the cold war, as well as commentating regularly on contemporary security issues. His latest book, The Future of War: A History, has received rave reviews in The Times and The Guardian.
"Once upon a time the distinction between war and peace was clear-cut," writes Sir Lawrence in Foreign Policy, "it has been a long time since we enjoyed such clarity." As the distinction between war and peace has become increasingly blurred in contemporary conflicts, much scholarly and journalistic attention has been on the definition of modern warfare. "What is long overdue," poses Sir Lawrence, "is reflection on the challenge posed to our definition of peace."
What would such a new definition of peace look like, and what would it mean for the future, not only for Israel-Palestine (with which our charity is concerned) but for the world?
Join us on December 13th to find out!
Sunday 15 May 2016
Super Hero Run on May 15th 2016
We're excited to announce that we will be taking part in this year's Super Hero Run to raise money for the bilingual-binational Primary School at NSWaS. Why not join us, and thousands more, for a super morning running/walking/teleporting through Regents Park?

To join up please follow this link.